These are some useful diagrams on mechanical/electrical components in the bug.
A good place to find diagrams is at Speedy Jim's page!
BN2 Heater Diagrams
Warning: BN2 GAS Heater is very dangerous and very unpredictable! If you insist on fixing it yourself, do it in a well ventilated area and use extreme caution. I would HIGHLY recommend that you get a specialist to fix it for you (the dealer)!
Here are some useful diagrams and links for the BN2 Eberspächer heater.
If You haven't already been, go to my Manuals page fro more info on the BN2.
http://www.type2.com/library/heating.htm has some good tutorials!
Click to enlarge
BN2 Heater: From left to right: Simple electrical schematic, Diagram with part listing, Fuel pump expanded view, and proper electrical schematic with parts listing.
Headlight Switch Wiring Diagram

This is the headlight switch diagram. (Same for toggle switch on 70's beetles)
(Automatic headlight wiring can be found in the Junk Pile!)
Wiper Wiring Diagram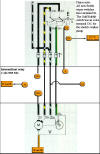 This is an official wiring diagram for the wiper circuit (relay, motor and switch).
Chassis Tubes and Lines Diagram

This diagram shows the locations of different lines for fluids and cables located on the chassis.
Safety Belt Warning Relay Diagram

This is a hard to find diagram (that I took the time to create) of the safety belt warning relay. The relay is located behind the fuse box (the bigger of the two). Your car will not start without this (unless your smart like me and short pins "C" and "50)!
Created By: Adam Kosick 2004